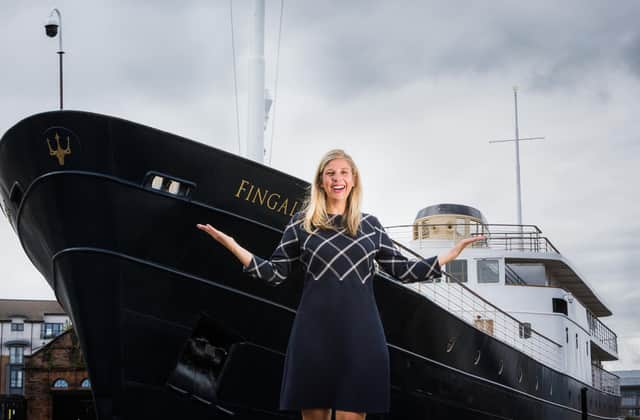 This is what life is like after lockdown on Edinburgh's floating hotel
With lockdown restrictions now lifted, it's all hands on deck aboard Leith's most unique establishment.
Published 22nd Jul 2020, 07:00 BST
Updated 23rd Jul 2020, 10:58 BST
Like many local businesses, Fingal had the wind knocked out of its sails by the coronavirus pandemic – but the luxury 'floating' hotel berthed in the Port of Leith looks well placed to navigate itself through choppy waters.
Having appointed its first 'Wellbeing Manager', the former lighthouse servicing ship welcomed guests back onboard on Wednesday (July 22).
As such, it's now all hands on deck for Mari-Nel Scorer and her fellow crew members as they work hard to ensure that Fingal's overnight guests, and local diners, continue to enjoy a unique, luxurious and seamless experience.
"We've introduced some small changes to help guests feel more at ease while eating out in public again, but our core dining experience, luxury cabins and values remain reassuringly unchanged," says Mari-Nel.
"We will continue to reinforce our world-class reputation as one of Scotland's most iconic hotels and foodie destinations.
"A choice of more intimate and flexible guest experiences are now available for small pre-booked groups, including private dining booths in our restaurant, exclusive use of The Bridge and our Skerryvore Suite with private deck and dining for couples.
"Whatever our guests request, we will go above and beyond to deliver," adds Mari-Nel.
A former Northern Lighthouse Board (NLB) tender, Fingal developed by the award-winning team at The Royal Yacht Britannia.
Following a £5 million transformation in 2019, it is now a world-class foodie destination and was recently named 'Best Newcomer' at Scotland's Prestige Hotel Awards 2020.
Earlier this week, the Evening News climbed aboard Fingal for a post-lockdown look around.
For more information on Fingal and to make a reservation for an overnight stay or in the restaurant, visit www.fingal.co.uk