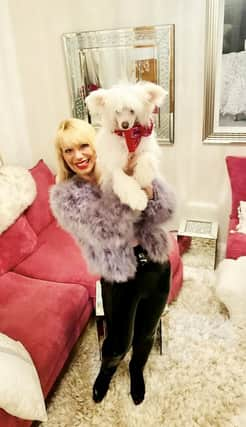 In pictures: Woman spends £2000 on dog's Christmas presents and built him a Santa Grotto
Meet the pampered pooch whose owner has built him his own Santa Grotto - complete with a stack of presents worth £2,000.
Published 22nd Dec 2020, 16:45 GMT
Updated 22nd Dec 2020, 22:40 GMT
Owner Alisa Thorne, 52, spent a week turning her garden summer house into a Winter Wonderland for her six-month-old pup Fabio. She spared no expense on gifts for the lucky pup including a custom-made Swarovski crystal bowtie worth £600 and a £130 Cavalli onesie to add to his 800 item 'fur-dorbe'.
Alisa bought the Chinese Crested Powder Puff in July 2020 and splashed out nearly £1,000 on a 'puppy party' where she gifted him a Swarovski bow tie worth £600 and a £160 convertible car. She considers Fabio to be her 'baby' and will take him out for walks in his own pushchair around their hometown in Rhondda Cynon Taff, Wales. She has splashed out more than £12k on the pooch in total and the pair recently appeared on the BBC Two show '12 Puppies and Us'.