Scotland fans in London RECAP: Tartan Army descends on Leicester Square | England hold Scotland to a draw in Euro 2020 Group D clash at Wembley | Fans sing Yes Sir I Can Boogie | Nicola Sturgeon congratulates Scotland team
The oldest rivalry in international football continues tonight as Scotland and England go head to head in their Euro 2020 Group D clash at Wembley – and you can get all the buildup and team news in our dedicated live blog.
Scroll down to see all the latest updates as the Auld Enemy prepare to meet in a major tournament finals for the first time in 25 years.
Scotland vs England RECAP: All the buildup to tonight's crunch Euro 2020 game at Wembley
Show new updates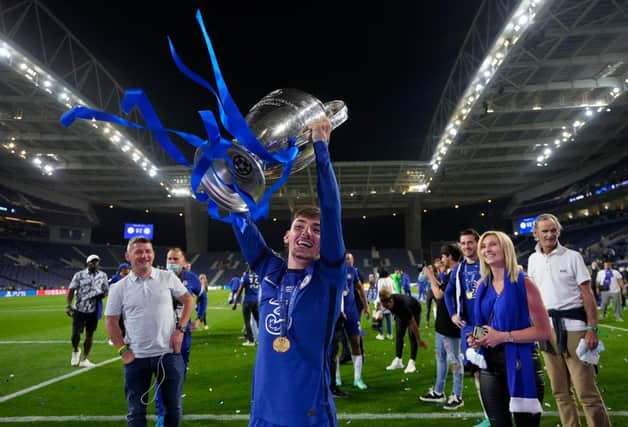 Jose Mourinho has urged Scotland boss Steve Clarke to start Chelsea youngster Billy Gilmour against England on Friday evening.
Fitness boost for Scotland as Kieran Tierney available to face England
Scotland were handed a Euro 2020 boost after Kieran Tierney was declared fit and available for the game against England on Friday night.
The Arsenal defender, a key player for Steve Clarke's side, missed the 2-0 defeat by the Czech Republic at Hampden Park in the Group D opener with a niggle.
At the pre-match zoom media conference ahead of the trip to Wembley, boss Clarke confirmed Tierney had fully recovered.
He said: "It is good news for Kieran, good news for us and good news for the Scottish supporters.
"He has trained fully the last two days. He is available for the whole game. Hopefully we can back all that up with a good result."
Harry Maguire could start against Scotland, reveals Gareth Southgate
Gareth Southgate has confirmed Harry Maguire will be involved against oldest rivals Scotland and could even start as England look to wrap up early progress to the Euro 2020 knockout phase.
All eyes will be on a partially filled Wembley on Friday for an eagerly-anticipated Auld Enemy showdown that sees the Three Lions attempt to reach the last 16 and dent the wounded Scots' hopes.
Steve Clarke's men can call on Kieran Tierney after opening Group D with a 2-0 loss to the Czech Republic, while England are able to turn to a key returning figure of their own after beating Croatia 1-0 on Sunday.
Maguire's availability for the Euros has been a major talking point since sustaining a high ankle sprain on May 9, ruling him out of the rest of Manchester United's campaign.
Southgate said his return to fitness would be a "bonus" after selecting him in his 26-man squad, yet the centre-back has made such impressive strides that he is back available to face Scotland.
"Yeah, Harry will be involved tomorrow," the England manager said.
"The decision we've got to make is whether he's ready to start but we've been really pleased with his progress.
"He's trained with the team for four or five days now and had no reaction.
"Of course, each session that he's involved with he gets more confident and I think he's on a really good path, so of course we want everybody available.
"It causes difficult decisions but at the moment, this morning, on this training pitch we had 26 players training and that's a great situation for us to be in."
England and Scotland fans predicted to buy 3.4m pints during Euros match
England and Scotland fans are predicted to buy 3.4 million pints during the Euro 2020 clash on Friday evening.
The British Beer and Pub Association (BBPA) estimates that 14.8 million pints will be sold across England and Scotland on match day, with over 3 million sales during the game itself.
But the trade association warned that due to Covid-19 restrictions, including social distancing, rule of six and no standing, that beer sales will be reduced by almost 850,000 pints.
This would result in a revenue loss of around £3.2 million for pubs across England and Scotland.
Chief executive of the British Beer and Pub Association Emma McClarkin said: "Whether you're supporting England or Scotland, nothing beats watching the game at the pub.
"Given pubs have been closed or faced restrictions for more than a year in both England and Scotland, every little helps and is critical to their recovery and survival.
"Given the delay in England to the lockdown and with rumours suggesting a similar delay could be coming in Scotland, it is a real great shame that fans will not even be able to enjoy the tournament without restrictions in the latter stages. All restrictions on pubs in England and Scotland must be removed as soon as possible for our sector to survive and recover."
England v Scotland: Divided couple have bragging rights at stake
Football's oldest international rivalry will pit club colleagues against one another, but it could also test relationships.
Chris Millen, 37, from Livingston, and his wife Laura Millen, 38, from Mansfield, live in Ipswich and will be watching the game together.
"(I'm) really excited because this is the first time competitively in my adult life Scotland will play in an actual tournament," Chris told the PA news agency.
"For them to be drawn against England … yeah, it's a kind of surreal feeling. I don't think I'll properly know how to feel or react until tomorrow."
Laura added: "It's a blessing and a curse because obviously I support Scotland unless they're playing England – to hit each other in the group stages is quite interesting.
"We met in Scotland. So I've always been a big advocate for Scotland to qualify into a tournament."
Laura described the mood as a "friendly rivalry at the moment", adding "we'll see on Friday", while Chris said his wife has not missed the chance to mention Scotland goalkeeper David Marshall's role in the Czech Republic's wonder-goal on Monday.
"Laura has been very, very strong on the David Marshall memes to me, very strong," he said of the memes showing Marshall falling into the net. "But that's to be expected."
The Nottingham Forest fans, who met during Euro 2004 at a nightclub, will watch the game together at a local social club, where Chris is expecting to be the only Scotland supporter.
"I imagine I'll be the only one," he said. "So once the scoreline comes in, which I expect – not hope – I expect England to romp home, I think for the hour after that I'll take a faint ribbing."
"But obviously you're going to turn up in your Scotland top regardless?" asked Laura.
"Oh yeah, I'll be there, Braveheart, everything, the flag… if I had face paint that'd be on!" said Chris.
Gareth Southgate: I wouldn't be England manager now if not for win over Scotland
Gareth Southgate knows beating Scotland got him the permanent gig as England manager – an opportunity he had regretted not pushing for sooner.
The Three Lions welcome Steve Clarke's side to Wembley on Friday looking to seal progress to the round of 16 with a game to spare.
The 115th instalment of international football's oldest rivalry will be the fifth Southgate has played or managed in, having started in the fixture twice and then managed two World Cup qualifiers.
The Paul Gascoigne-inspired 2-0 win at Euro 96 is the most memorable of those matches, but the 3-0 qualifying win against Scotland in November 2016 arguably had the biggest impact on the 50-year-old.
England Under-21s manager Southgate was parachuted in as temporary boss following Sam Allardyce's ignominious exit and had overseen a 2-0 win against Malta and 0-0 draw in Slovenia before beating Scotland.
Asked if he would have been England boss had that 3-0 win not happened, he said: "I think it's a really good point. I suspect if we hadn't beaten Scotland, you're right – you wouldn't be speaking to me here.
"Also, I think that moment for Scotland was a difficult one. They were in the middle of a bad run of form and that fell quite kindly for us as a fixture.
"I felt we played well on the night but we were in the really early stages of getting the team playing in a way that resembled what we truly believed and what the consequence of more time coaching the team allowed to happen."
Sir Kenny Dalglish doesn't expect England players to wind up David Marshall
Sir Kenny Dalglish does not expect to see a return of old jokes about Scottish goalkeepers after David Marshall's Hampden blunder.
The former Liverpool great hushed years of sly digs about the standard of Scottish number ones when he fired through the legs of England keeper and Anfield team-mate Ray Clemence back in the 1976.
But there have been plenty of sniggers heard from south of the border since the Scots' current shot-stopper Marshall was left in a tangle after being lobbed from 50 yards out by Czech Republic forward Patrik Schick in Monday's damaging 2-0 defeat.
But Dalglish reckons the incident will not be viewed as a laughing matter by Gareth Southgate's England team – who host the Scots at Wembley on Friday – as he hailed Schick's outrageous piece of skill.
Dalglish, speaking as a McDonald's Fun Football ambassador, said: "I don't think you point the finger too much at Marsh.
"It would be remiss of anybody not to applaud the ability of the guy to hit it from almost 50 yards with a huge bend on it to make it even harder for the keeper.
"It's not as if he's hit it straight over his head. He's set it out with a huge draw on it as they say in golf. It's some awareness and a great delivery as well.
"The (English) can wind anybody up. That's what they will do beforehand. I don't think nowadays they will go into it the same way as they did before.
"Before it was taken for granted that there would be a bit of back and forth with the words, a wee bit of a laugh and a joke and some tongue-in-cheek criticism.
"I don't think they do it any more, it's not in the remit for the players nowadays."
Harry Kane would trade all his golden boots to lead England to Euro 2020 glory
Harry Kane insists he would trade in his golden boots for Euro 2020 glory as he remains fully focused on England amid speculation surrounding his Tottenham future.
The Three Lions captain is keen to leave Spurs in pursuit of success, but more pressing is his desire to get his hands on some silverware with his country this summer at Euro 2020.
Kane, who has been linked with a move to Manchester City, won the Premier League golden boot for the third time last season.
He also picked up the same accolade at the 2018 World Cup and added the Premier League playmaker of the year gong to his collection for laying on more assists than anyone else in the previous campaign.
But the 27-year-old would happily swap those individual honours to lift the European Championship trophy on July 11.
"I'd trade them in to win the Euros this summer, of course," he said.
"I've said before that winning a team trophy, especially for our nation, would probably be the greatest highlight in my professional career.
"I think winning with England has always been a dream, always been an ultimate goal.
"I think whenever you put on this shirt, the aim is to win and obviously we've not won a major trophy for a long, long time.
"We all have that opportunity to be part of something special and I'm relishing that challenge, I love to take that challenge on.
"Of course, it was fantastic to win the golden boot in a World Cup but that was three years ago now so obviously I've changed as a player, I'm more experienced, so a lot of things can change in that time.
"I take confidence from that, knowing I've done it on the biggest stage possible."
Scotland fans show their support in Leicester Square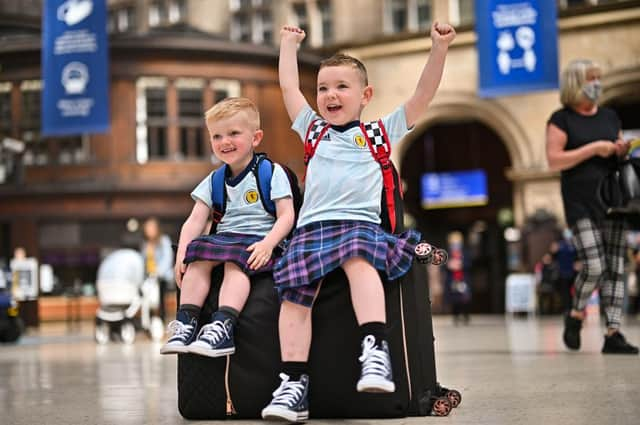 It's just over 24 hours until Scotland kick-off their biggest match in a long, long time when they line-up against England at Wembley on Friday evening.